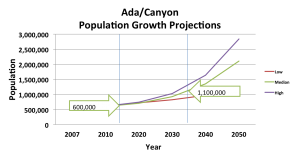 Among the many benefits of the Central Valley Expressway are that it will ease traffic congestion on:
SH-55 (Eagle Road)
US 20/26 (Chinden Boulevard)
SH-44 (State Street)
I-84
Major Arterial Streets
Reduced congestion and decreased travel times will decrease emissions in the Treasure Valley and decreased emissions will help to avoid Non-Attainment designation by the EPA.
Decreased congestion and travel time will increase quality of life and employee productivity within the Boise Valley and help to avoid delays when transporting goods from Gem County and northern Ada County to I-84.
The distribution of workforce along the CVE Corridor will create jobs closer to housing, thereby reducing amount of commuters. More significantly, construction of the CVE will put Idahoans back to work now and help rejuvenate the state economy.